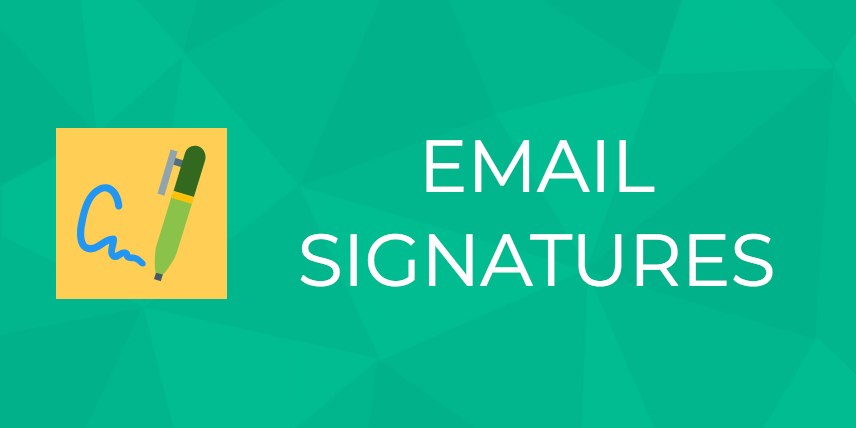 Source: Digital.com
When it comes to email marketing, there are lot many things that come into mind including monthly customer newsletters, daily blog RSS feeds, email campaigns and more. But one thing you probably didn't think of is employee email signatures.
Do you use an email for your business? If so, then you might know about email signatures. However, most people don't seem to put much value to it. But what if an email signature can become your one of the most significant marketing channels. Yes, you read that right, email signatures will become your primary channel of marketing and give your company a new ability to boost your business. But only if you know how to do it properly.
Here in this blog post, we'll show you how to make a professional business email signature that can become a new useful tool for your business success. But before we start, let's discuss briefly Email Signature.
What is an Email Signature and Why is it Necessary?
Email Signature is a short text which is normally placed at the end of an email. It provides basic information about the person who sent an email to the recipient.  In their email signature, people can add anything they believe to be important – including their full name, the company name they work for, designation, contact details, photo or company logo, and more. Basically, your email signature is your business card in digital form.
At some instances, you may think – why do I need to create an email signature? Here are quite a few good reasons why you need it:
With an email signature, people can easily and quickly identify your contact information.
Adding your company name in the email signature can give the recipient a chance to find your company and product before getting back to you.
Also, it allows people to contact you if your message was forwarded from your business partners.
Furthermore, an email signature helps you to drive traffic to your company website and social profiles also.
Here, in this picture, you can see all the benefits that can revolve around Email Signatures.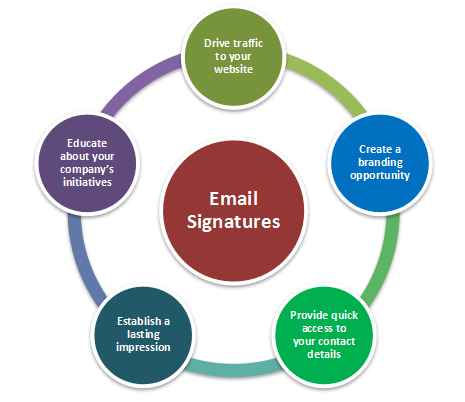 Source: Uppers Email
Tips for Creating an Email Signature
For most of the marketers and business owners, creating an email signature seems like a pretty and simple task. But, choosing the right email signature is much more important than you might think. Also, the signature which you choose must be readable, relevant, and elegant. To achieve this, you need to follow a few simple guidelines that are mentioned below:
Do Keep it Short and Simple
Providing all the necessary information about you and your company is the basic aim of creating an email signature. But limiting all your info between 5-7 lines can make all the difference.
Do Customize Based on Your Designation
To keep your email signature more specific, you can customize it by adding your designation in the company which you work for.
Do Include Social Media Icons
Including social media, icons will drive traffic to your website and help set up additional contact channels with your prospect.
Including a CTA in your email signature can push the recipients to follow a link and read more about your company or offers you provided.
Do Make It Mobile -Friendly
When creating an email signature, make sure everything included in your contact information is displayed correctly including each link and icon.
Do Check For Spelling Mistakes
Misspellings in an email might come while framing out the content, but mistakes in a signature show it as unprofessional. Hence, check for spelling mistakes while creating an email signature.
If you have the time and you believe email signature can drive more conversions, why not to go for A/B testing on it? This is especially applicable for sales representatives.
Don't Use Multiple Colors and Fonts
Great email signatures are always simple, reserved, and easy-to-read. Hence, avoid using multiple colours and fonts in your signature as it may disturb the reader's attention.
Don't Use Multiple Images
Just like with fonts and colours, keep your email signature simple with one or two images. Instead of using multiple photos, it is suggested that use only one image in your signature – a professional photo or your company logo.
Here are some of the best examples of email signatures done by top brands to drive conversions. Choose one from them and create a suitable version that aligns with your company.
Drive Website Traffic
Promoting existing content in your email signature can drive more traffic for your website and improves social shares. If you've got the right landing page set up with an email newsletter signup form, it could drive more subscriptions also.
From a high-converting case study to an infographic that went viral on Twitter and other social sites, choose content that actually grabs the readers' attention. For that, coordinate with your content team and review conversion data in Google Analytics to discover which content performs especially well for your business. Then link that in your email signature.
Note: Don't just include "Read our latest blog/whitepaper/ebook!" instead of that, hyperlink intriguing anchor text that compels the reader to click, as Yesware does in this example below:
Email signatures with call-to-action example

Image Source: Yesware
Alternately, you might use a graphic to advertise the content, as shown in the following example from HubSpot:
Email signatures with call-to-action example

Image Source: HubSpot
Increase Your Following
Want to grow your social media following? Here, you have got some options.
Initially, you should link your main social media channels in your email signature as most of the people like to follow brands they work with and buy from. Instead of including long URLs, you can link using small icons to your social media channels. Note that, all icons must be precise, instantly recognizable, and simply less exhausting to look at, as demonstrated in the following example from Mailbird.
Example for Email Signature with Social Media Icons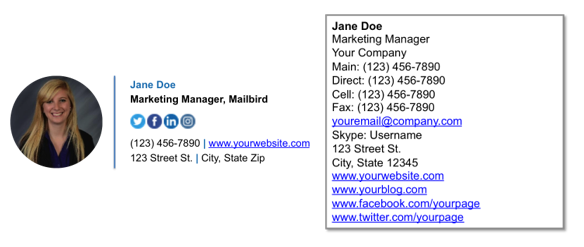 Image Source: Mailbird
If you desperately want follows in your social media profile, you could take a more aggressive route like Limehouse Creative did as shown in the below image. Although there's a lot of information in their email signature, your eye is immediately drawn to the graphic, right? If social follows are most important to your marketing strategy, this is a great option to choose for your company too.
Example of Email Signature for Social Follows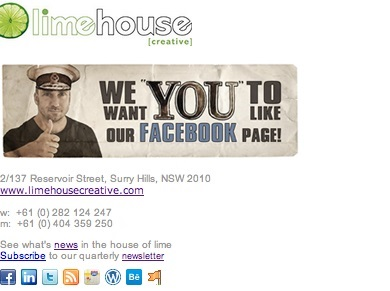 Image Source: SmallBusinessSense
Generate Leads
When it comes to requesting for demos, your email signature is a perfect opportunity for your sales team to generate leads. Hence, you can include CTAs like "Request a demo" link in your email signature to make it easy for leads to connect with the sales representatives.
Example of Email signatures for sales representatives with a call to action

Image Source: Yesware
Turn Leads into Customers
Once you've got a thread going with a lead, the goal is to push them further down to the sales funnel.
From our first tip, you could take a cue and link the signatures of your salespeople to your top-performing case study. Or you might work with your CRM program to change your email signatures dynamically based on the status of a lead. The addition of a discount offer may be just the thing that wins them over for leads that unexpectedly went cold, or are just lollygagging. The banners from your display ads can also be reused. Here, you will see how the realtor of Holman Homes used discount deals in his signature.
Email signatures Example for special offers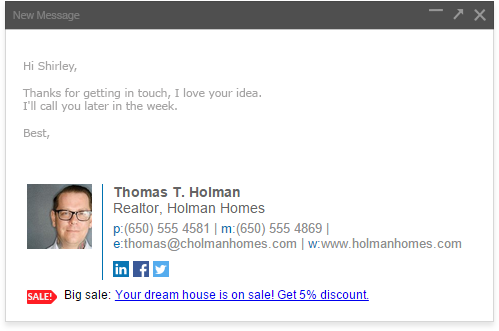 Image Source: WiseStamp
Promote Upcoming Events
Email signatures are perfect for promoting an upcoming event because it's likely that the email will be read by recipients before the event takes place. When you embed an event-based banner after your email signature as shown in the below image, there's a good chance to get promotions for your upcoming promotional events or summits.
Email signature Example for promoting events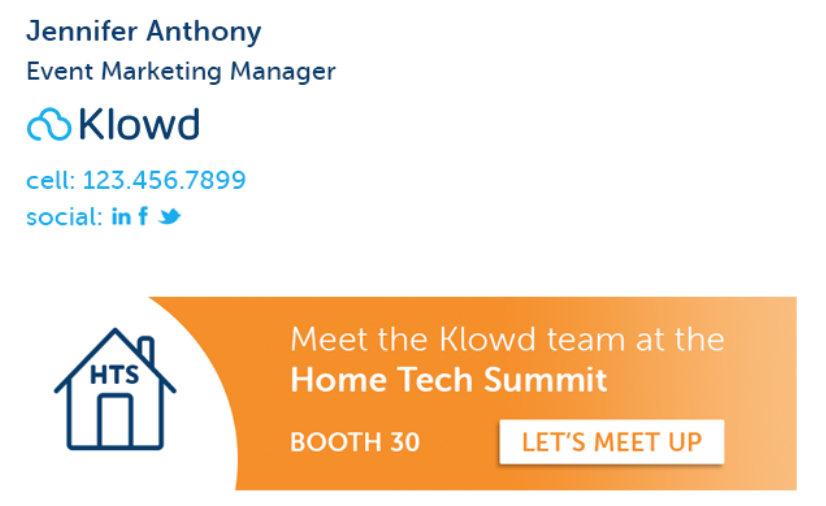 Image Source: HubSpot
Conclusion
With an email signature marketing strategy, it's easy to increase the number of opportunities to reach your target readers. Hence, email signatures have become trending in creating a huge opportunity for your business growth. If you are not employing it, then you are losing some potential leads, sales, and customers.
Using professionally designed, branded email signatures for your company can become one of your best business decisions. With this marketing channel, your business will always benefit and enjoy more brand awareness, leads, social media engagement and more other advantages.