As pandemic covid-19 hitting us hard, the world of marketing is continuously changing with the internet & its evolution. Due to this constant shift, many salespersons, find it tough to decide & focus on hot leads or accounts.  In order to solve this issue, Account-based marketing comes into a pitch where sales & marketing teams can work together to deliver account-specific messages with customized programs. Also, it can emerge as an improving revenue model in a short span of time.
Account-based marketing aims to start the sales process by selling directly to the best fit instead of wasting time on unqualified or uninterested leads.  And more importantly, spending time on unqualified leads isn't the right fit for your business.  In simple, you must move into the phases of engaging your target accounts effectively.
So curious to know what is account-based marketing?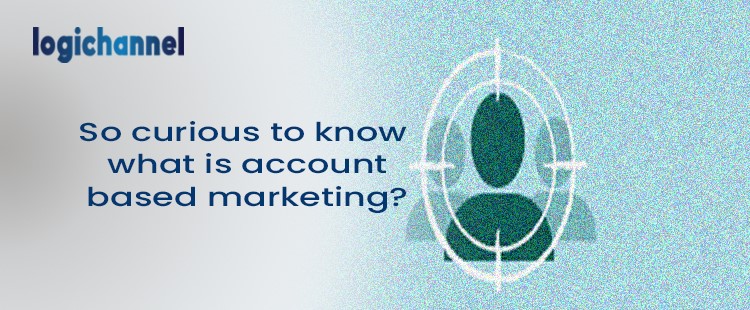 Account-Based Marketing (ABM) is a growth strategy that aims to collaborate with the marketing & sales team to create a personalized buying experience for a high-value account available in your marketing or sales CRM.
Weed out the least valuable companies by opting for account-based marketing. If the sales & marketing team are in complete alignment you can engage high-value accounts much effectively.  Account-based marketing helps B2B marketers to work & communicate with high-value accounts as if they are the individual markets. With deep personalization insights, high-value accounts can be effectively communicated with content & campaign to boost customer loyalty & ROI.
Before deep-diving into account-based marketing & specific tactics, there is another important combo that can do wonders. Account-based marketing & inbound marketing is the best combo ever.  Now you must be wondering how exactly this combo works?  No worries, we can understand from the definition of account-based marketing – it is a highly targeted strategy.
Inbound marketing is one of the foundational methodologies for framing a growth strategy that aims to attract new customers with valuable content &provide a delightful experience. Inbound marketing paves the way to organically provide the information they want with the strong ABM strategy.
Why it is important to implement both account-based marketing & inbound marketing?
You grow better by targeting high valued accounts with remarkable experience as an account-based marketing help in providing delightful insights.
With combined efforts, you can attract a broader group of audience & get in touch with multiple opportunities
You can create valuable content which can be used for inbound marketing & Account-based Marketing.
With the advancement and innovation in account-based marketing software, it is easy & simple to implement account-based marketing & inbound strategies.
The efficient customer Acquisition process
Efficient use of marketing resources
Building stronger & trustworthy business relationships
Improved sales cycle
Types of Account-based Marketing Strategies:
There are three types of account-based marketing that are
Strategic Account-based marketing
A highly customized marketing program for a small group of accounts & when it is between 5-15 accounts are often referred to as Strategic Account-based marketing. Content must be highly personalized for these high-value accounts.
Account-based marketing lite
If marketers prioritize their program for particular clusters of accounts that share similar needs is referred to as Account-based marketing lite. Based on the company typically 15-100 accounts are selected at this phase. It requires a high investment strategy.
Programmatic account-based marketing
And lastly, programmatic account-based marketing is defined by a "one to many" focus. Depending on your budget, you can scale up your accounts within several verticals.
How to identify high-value accounts for ABM campaigns?
In order to generate a high ROI, you must ensure your marketing campaigns generate high ROI. Here comes the big question how to identify those critical accounts effectively
Creating ideal customer profiles: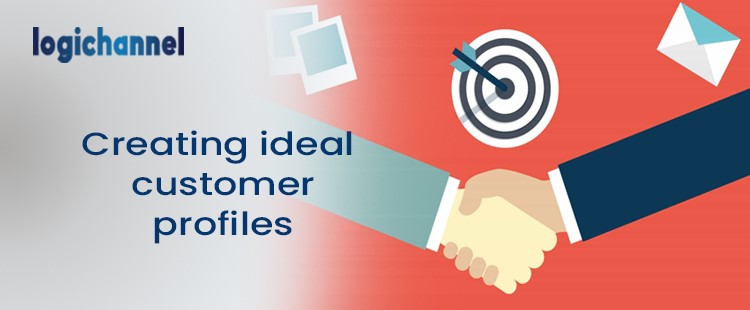 Building an ideal customer profile is one of the best & effective ways to identify popular accounts. ICP gives a description of the company that perfectly fits with your buyer.
Channel Mapping:
The process of identifying your most valuable channels & accounts that are used to understand a company's brand is termed channel mapping. With this detailed information, you can focus on most valuable channels & partners.
Enrich Your CRM Data: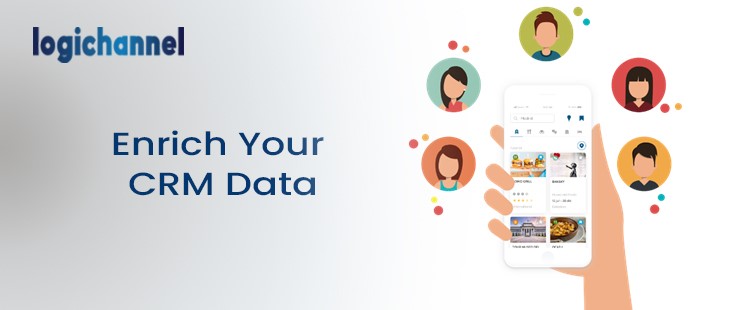 ABM tactics work well if ABM uses the right data. Without the right data desired result is not possible. Missing important insights could be lead to misuse of marketing funds & resources. So in order to gain good control over sales data, polish your existing data & multiply your returns.
How to build your account-based marketing tactics?
If account-based marketing is the building block of your strategy, then you must ensure efforts & investments made are successful.
Make Use of Strategic Account Planning Template
As sales & marketing teams are involved in account-based marketing, it is the best deal to unify your strategic account planning template with useful information. Your template must provide clear & unique content such as
Business Overview
New business initiatives
Customer Relationship landscape
Customer products & revenue
Competitor analysis
Buying process & plan
Customer relationship goals & strategy
Sales opportunities
Action plan
Organization Account-Based Alignment:
One of the most important tactics of account-based alignment is – secure organizational account-based Marketing alignment.  In simple it refers to getting all internal stakeholders on board. Collaborating with all customers is more important as it lays the foundation for the efficient & streamlined process.
For instance, the VP of Sales & VP of the marketing team should spread awareness regarding
Members are involved directly in the strategy.
Highlighting business point of difference for selected target accounts
ABM's (Account-Based Marketing) budget
ABM's (Account-Based Marketing) Resource
ABM's (Account-Based Marketing) goals
ABM's (Account-Based Marketing) KPI metrics
Build your ABM's Team: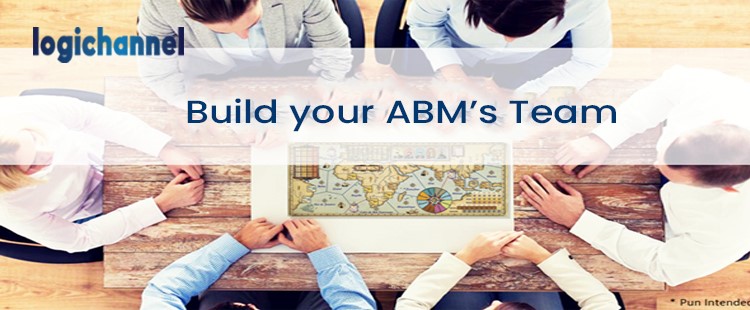 From the C- level perspective VP & executive people are involved. Being leaders of the respective teams, it is important to build their respective teams who will be completely dedicated to the targeted accounts.  This team will be responsible for creating & publishing engaging content for the targeted accounts. The ultimate aim of creating high-quality content is to close business deals more effectively.
Brainstorm & pick your ideal set of target accounts:
As C-level executives, it is important to brainstorm & pick the high-value target accounts to invest your time & energy in promoting upcoming products & services.  This can be achieved by the following ways.
Creating search alerts for your ideal customer LinkedIn Profile.
Create a workflow that helps in filtering incoming qualified leads based on business-specific criteria.
Identify target accounts based on particular industry vertical or geographical location.
Seek the help of the sales & marketing team to create an account plan together:
From the start of the blog, we have been insisting account-based marketing is all about team efforts. Agreed, right?  That's why involving appropriate marketing & sales teams is highly recommended. It gives a crystal clear answer for the below queries when an account-based marketing plan is rolled out.
Who should be known at each account?
What content is engaging among buying committee members?
Which channel is the most preferable media to share content?
How will be right support be provided to marketers to sales reps at each stage of the sales process?
How personalized content should be created?
How to customize allocated resources & budgets for each account?
Attract Contacts From High-Quality Accounts: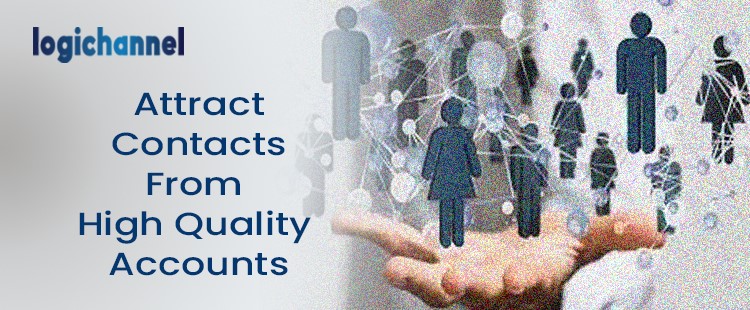 So far we have discussed how the strategy should be planned. Now we need to attract buying members & stakeholders of the target accounts. This works based on how long you've been in the industry and how ABM work was done previously on the selected accounts. Based on this suggestion & output you can decide which contact can be targeted & what works best for them.
Keep aspect of successfully attracting high-quality accounts is to personalize the content.  This will help to elevate brand awareness & maximize reach among the targeted audience.
With some GDPR compliance recommendations high-quality accounts can be targeted:
Engage with accounts on social media.
Prepare a podcast or video series by collaborating with leaders from the targeted account.
Conduct webinar or sponsor an event
Send direct messages via social media, direct mail, email, or post
Communicate through LinkedIn InMail outreach
Have a custom landing page to address the needs, questions & concerns
Have dedicated account managers for constant interaction & engagement
Create ad campaigns
Invite key contacts for events & ask attendees to invite their colleagues.
Optimize the campaign based on goals, metrics & marketing insights.
Benefits of Account-Based Marketing in 2021:
Targeting niche-based accounts based on their values
Ability to identify key accounts & retain them for longer
Identify key contact from the account & engage them
Build long-lasting relationships
Creating new opportunities to address the pain points.
Wrapping up:
Account-based marketing shortens the sales cycle with an improved conversion rate. Being professional B2B database service providers, we have intense market research &abusiness intelligence team. Collaborate with Logichannel to empower your business by making profitable marketing campaigns & acquire good business deals. To know more about account-based marketing connect with us right now. We're happy to help.