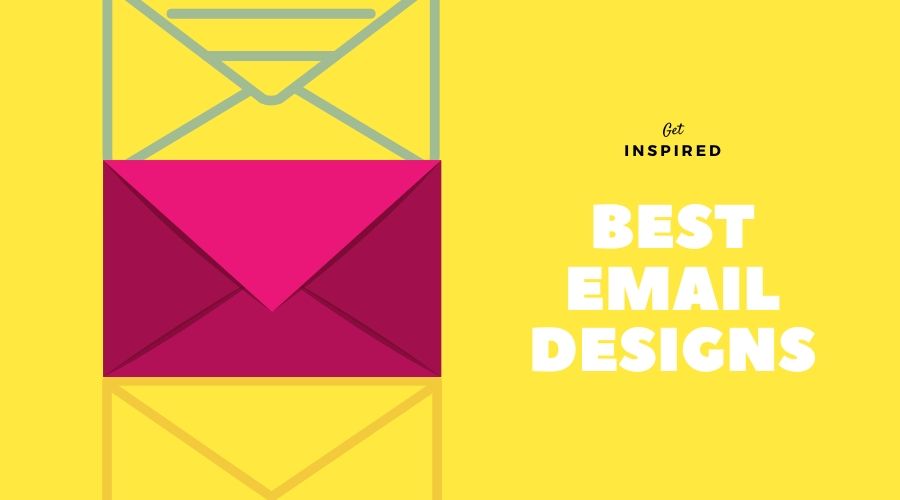 Image Source: Best Designs
Regardless of industry type and business size, you can use email marketing to promote your business on a rapid scale. Although there are many different ways to reach your target audience, from social media campaigns to influencer marketing and paid ads, email marketing remains one of the most effective ways to cut through the competition and enables you to speak directly to your customers.
To maximize the effectiveness of your email marketing strategies, you need a great design that grabs the attention of customers. Hence, most of the brands are turning to email design and new creative solutions that gain the attention of the customers and increase the click-through rate for their email.
Based on the type of industry and email purposes, email marketing campaigns can be divided into several categories. In this article, we will focus on four types of email campaigns that marketers in all industry segments use those most often:
Product promotion
Upselling
Cart abandonment
Product updates
In a general email, the design varies concerning the type of email campaign. Here, we are providing the best examples of email designs developed by top brands based on the type of campaign they used:
Product Promo Email Campaign Examples
Along with email newsletters, the most common email marketing campaign used by most of the businesses and brands when they launch a new product or service is product promotion. Here are a few examples of best email designs used by top-brands for product promotion.
Apple's email product campaign for the launch of AirPods Pro earphones is in line with the brand's style and visual characteristics. If you look at the below image, it is simple, predominantly monochrome with a large, high-quality photo of a product which is dominating the main screen.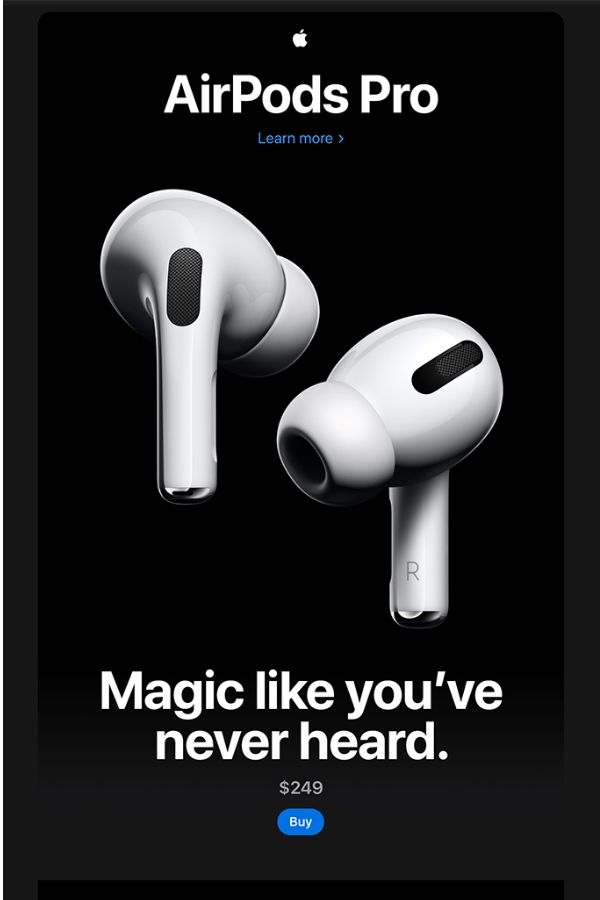 [Image Source: ReallyGoodEmails]
This email campaign has well-structured headings which help readers to understand what exactly they are looking for.
Contrasting images of Air pods pop against the dark background is eye-popping which can grab users' attention.
Also, the numerous calls-to-actions such as "Learn more", "Buy" may lead readers to visit their landing pages and enables users to make a purchase.
Great Jones' Salt & Pepper
Great Jones' is a company specialized in producing home products such as kitchen appliances and inventory. If you look at the below image, their Salt & Pepper product launch campaign completely relies on simplicity and attention-grabbing animation.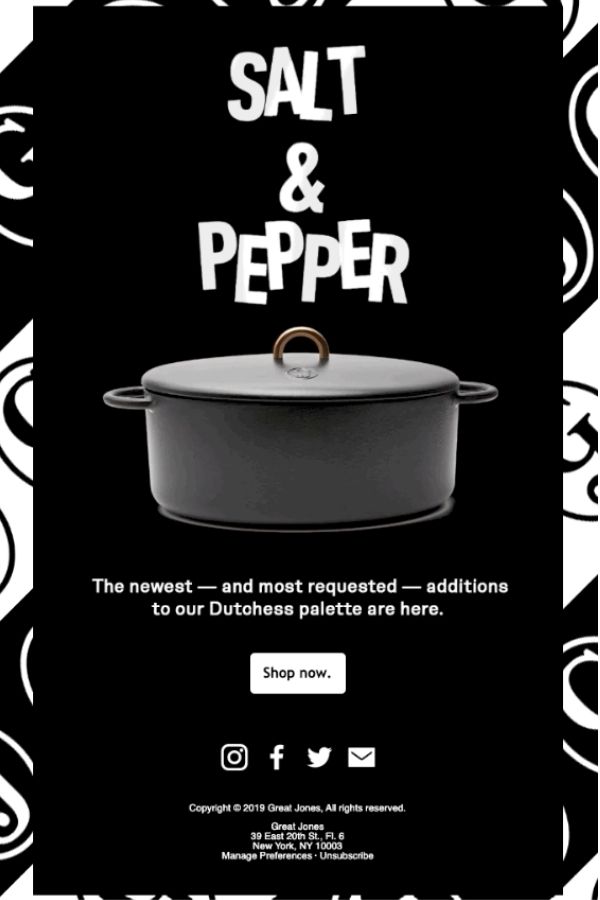 [Image Source: ReallyGoodEmails]
Great Jones' email campaign is all about selling one product which was displayed in the email template.
This makes their email campaign strikingly concise and direct.
Another example in simplicity and direct marketing – is about a product launch email campaign during a conference conducted by Frame.io.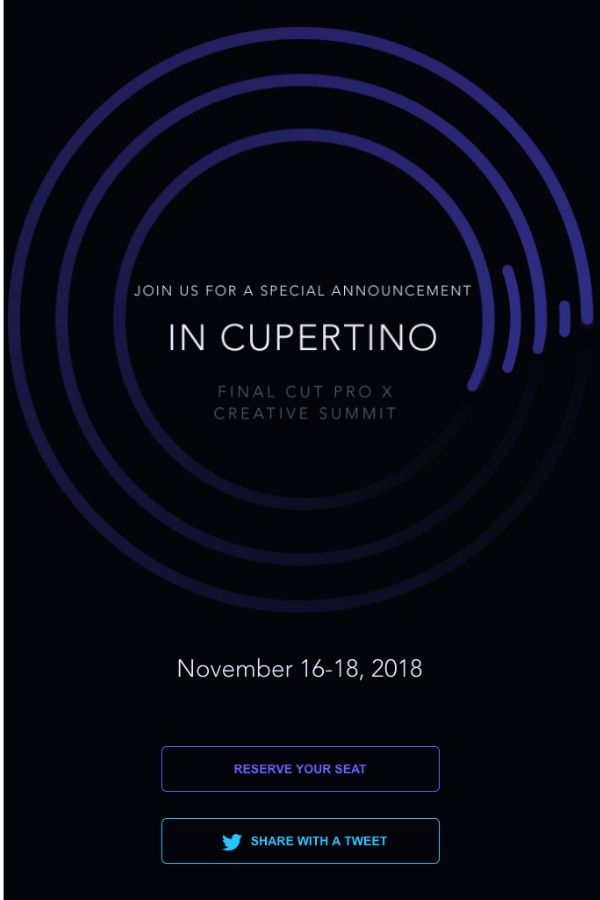 [Image Source: ReallyGoodEmails]
If you look at the above image, the email design with solid black background -which is very attractive that can grab the users attention
Also, they clearly mentioned their CTA as "Reserve Your Seat" for the conference related Final Cut Pro X Creative Summit.
Upselling Email Campaign Examples
Whenever a customer buys a product from a particular brand, it can send upsell campaigns to their customers. Hence, most of the businesses usually send upselling email campaigns that can steer the buyer's attention towards more products that they might interest and buy.
Here are examples of best email designs used by a few brands for Upselling Email Campaigns: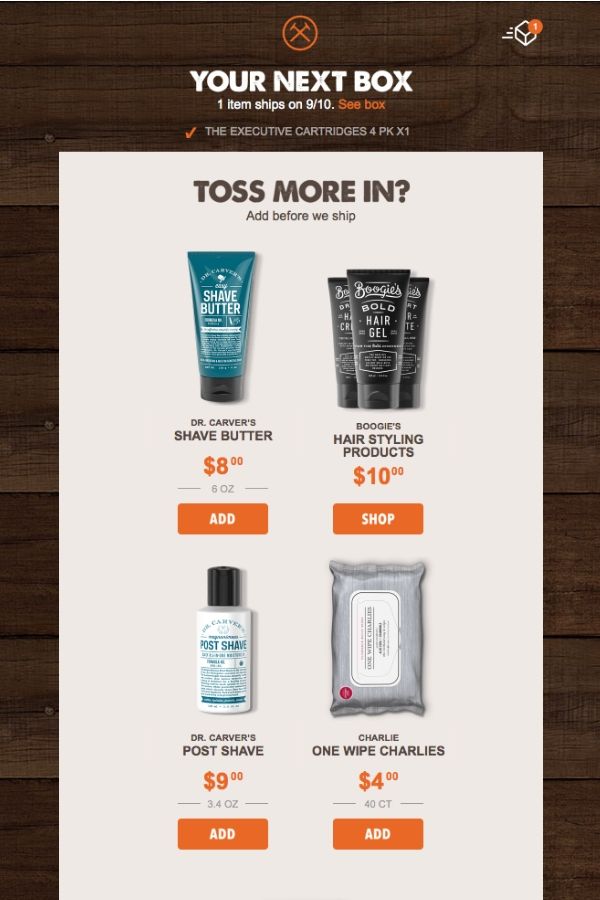 [Image Source: ReallyGoodEmails]
With a carefully executed and beautifully crafted e-mail campaign, this beauty and personal care brand upsell its products based on their customer's interests as shown in the above email template.
The "Dollar Shave Club" campaign invites a consumer to add more items to their shopping cart before hitting the order button.
The email campaign portrays potential purchases in two columns, with a very striking contrast between the product and the background.
To grab users' attention, they used vivid orange CTAs for "ADD" which are very visible and eye-popping.
WeTransfer is a company specialized in File transfer services. If you look at the below image, it is trying to upsell its bandwidth package through a uniquely designed email campaign that markets WeTransfer Plus package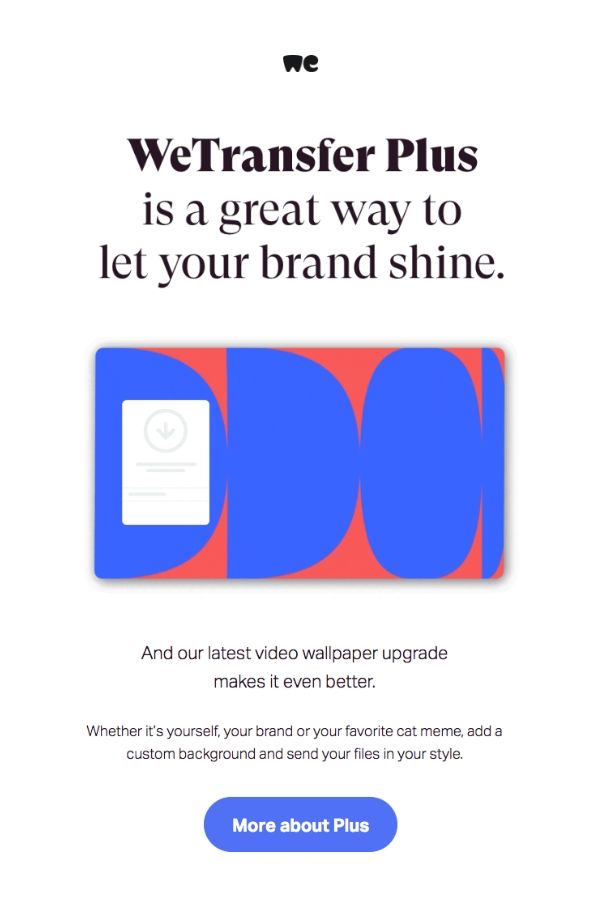 [Image Source: ReallyGoodEmails]
With a perfect and concise email design, they opted to market their product with a magazine-style email campaign.
They used a lot of white space and a few vibrant colours to make their email campaign stand out.
Also, with a single call-to-action button, they are trying to invite readers to learn more about the package and make a well-informed purchasing decision.
Another example of Upselling related Email Campaign is Grammarly. If you look at the below email design created by Grammarly – which is very personable and attractive.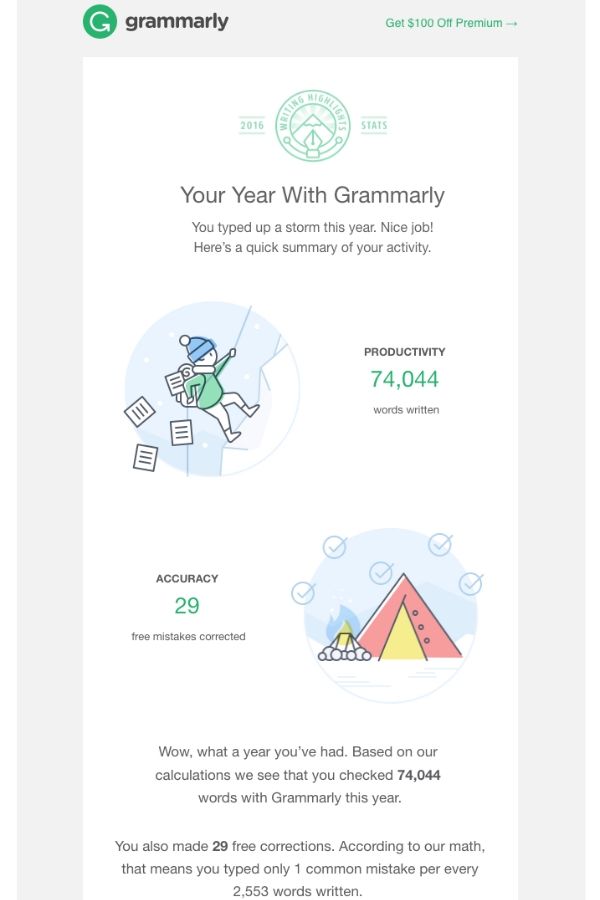 [Image Source: ReallyGoodEmails]
They mentioned "Highlights of Your year" in newsletter with yearly writing stats.
This creates an immediate effect of familiarity and reliability along with a personalized touch.
Furthermore, their email campaign follows its brand's style guidelines with clean white space and gentle, pastel colours.
Also, they mentioned the CTA button at top of the newsletter which invites them to upgrade to the Premium account.
Cart Abandonment Recovery Email Design Examples
Cart Abandonment is the most common scenario when it comes to eCommerce. Most of the customers visit an eStore, add an item or a few into their cart and then leave without completing the purchase. This leads to Card Abandonment. Here are some of the best examples of email marketing campaigns that remind customers about the items they have abandoned in their cart.
BlutDot is a company specialized in Home decor and furniture brand. It reminds their visitors of items they have viewed in their online store by sending them a very concise cart abandonment recovery email campaign as shown in the below figure.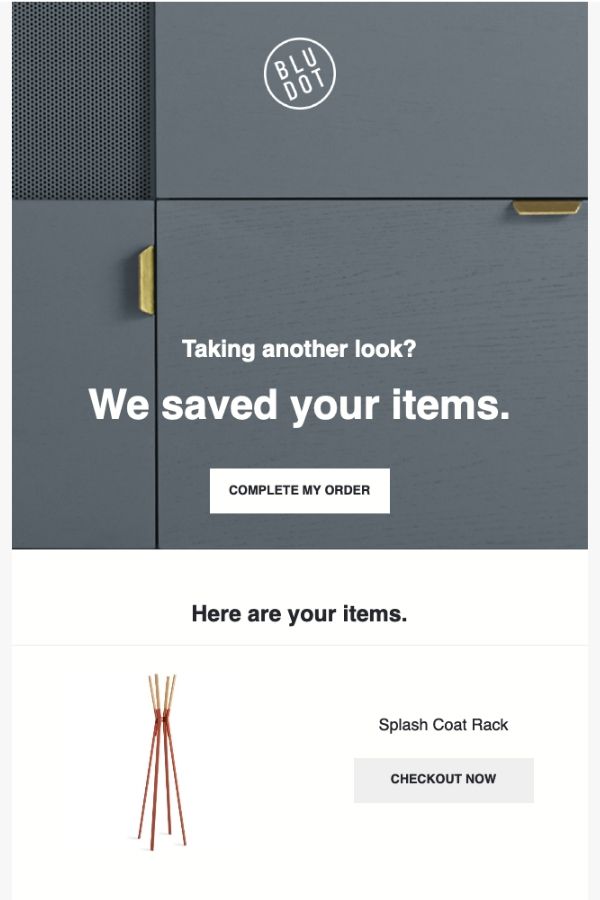 [Image Source: ReallyGoodEmails]
To grab the attention of users, Bludot provided furniture images in a neutral colour along with simple lines "Taking another look? We saved your items." and CTA as "Complete my order"
The email campaign is very precise about reminding their readers of the items they looked and abandoned in their carts previously.
Just below the CTA, they provided the items with a direct Checkout button next to them.
The cart abandonment recovery email campaign executed by Fashion and Apparel Brand – Moschino is quite interesting as shown in the below image.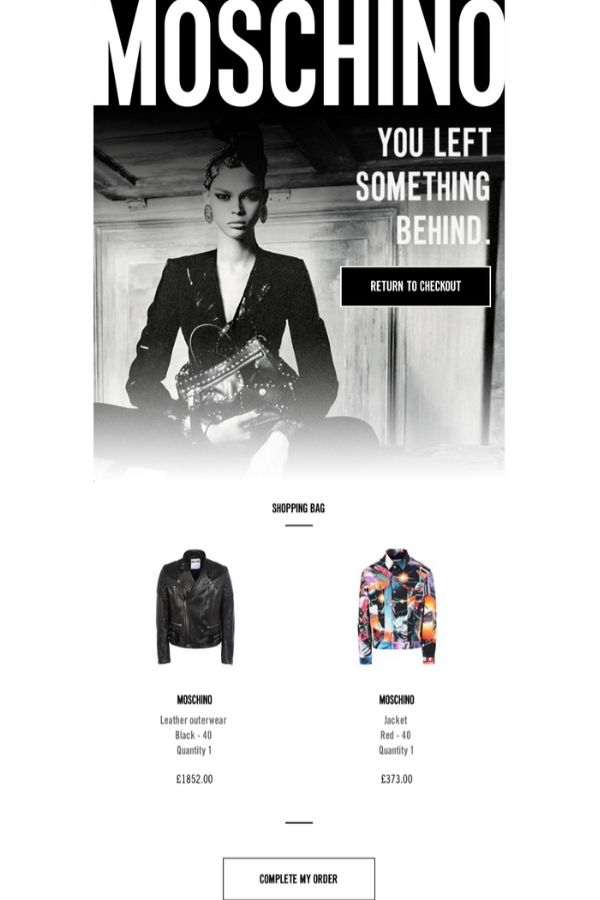 [Image Source: ReallyGoodEmails]
This email design features a black and white photo of a model with a caption "You left something behind" and a "Return to checkout" call-to-action – which is quite exciting.
Right under this large central part of an email, there is a list of items the user has left in their shopping carts.
Also, they included "Complete my order" button which enables readers to return and complete the purchase.
Here is one more example for Cart Abandonment Recovery email campaign executed by Exercise and fitness brand – ASICS. If you look at their email design mentioned below, they remind visitors who have looked at items in their store, placed them in a shopping cart and abandoned them.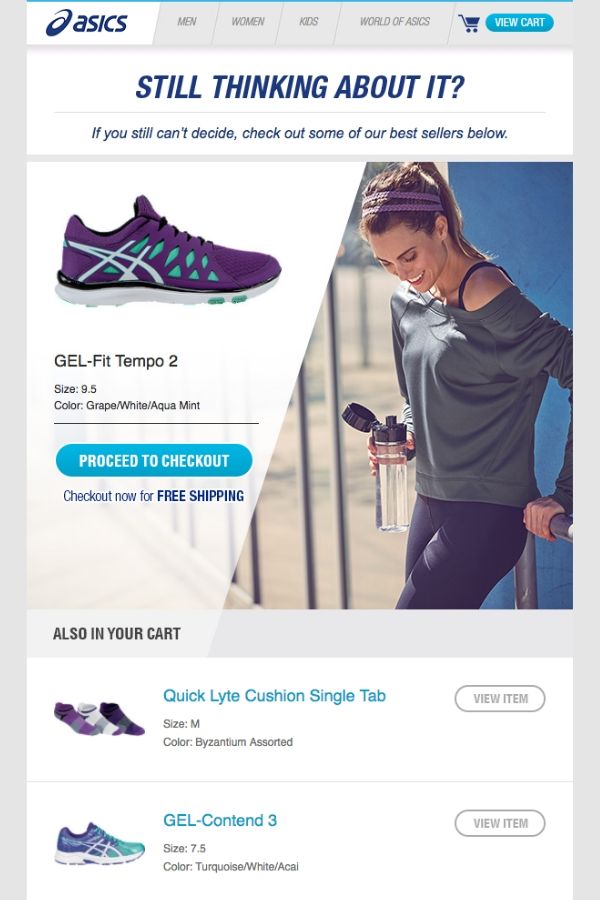 [Image Source: ReallyGoodEmails]
ASICs cart abandonment recovery email campaign mainly highlights the product that has been viewed by the users who visit their website.
Also, they mentioned CTAs in an email that encourages them to complete the purchase.
Product Update Marketing Campaign Examples
Updates to the products or services help satisfy consumers and create more interest in those products. Marketing campaigns for product updates educate the subscribers about products and typically include a lot of information, both in copy and design. And here are some examples for Product Update Marketing Campaigns:
BluDot's Stack'em Up
Home and decor brand Blu Dot's "Stack 'em up" product update email campaign is quite narrative as it incorporates design of their upgraded product as shown in the below image.