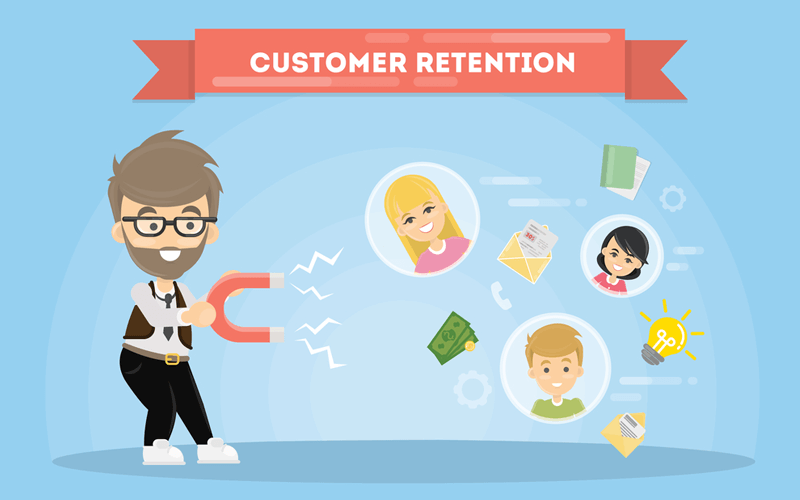 Source: Ignitur
With increased competition, retaining customers has become a challenging task for most modern businesses. In current scenarios, it is a nerve-wracking task to retain or re-convince a customer to buy your product or service.  As a business owner, you might prefer to focus on expanding your customer base, but it's also important to sustain the interests of your current customers.
In recent studies, it was found that the success rate of selling to current customers is 60-70%, whereas the success rate of selling to a new customer is 5-20%. Although customer retention consists of many metrics to focus on but overall it depends on increasing engagement and deepening your customers' connection to your brand. Here are some metrics that shows reasons why do customers opting-out your services: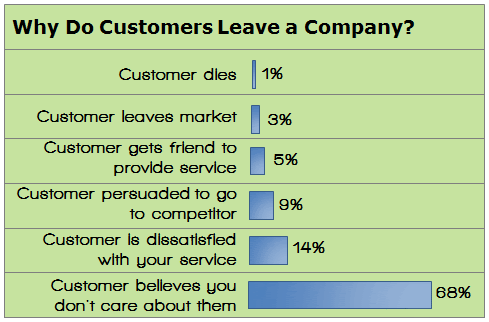 Source: From acquire.io
Customer Retention through Email Marketing
Amid the dominance of social media and other marketing channels, email marketing continues to be the most effective way of marketing to strengthen your bonds with customers. Also, it is extremely cost-effective while connecting with your existing customers as they're already on board with your brand and you have all the information you need to reach out to them with targeted retention email campaigns.
If you are facing the challenge of retaining your customers, do not lose hope. Remember there many tactics and approaches to engage the customers in the best possible ways.
Here are some of the unique tactics that would surely help in the customer retention process:
Database Segmentation
Database segmentation is one of the best practices that involves dividing your huge customers' database into small groups based on various factors such as age, gender, buying preferences, location, and more. Segmenting your database allows you to create better offers for a specific group of audiences. Additionally, it can increase click-through rate (CTR), engagement, and page visits.
As each company has different products and diverse buyer groups, divide your database and develop your email marketing content strategy as per your segmented data. Database segmentation allows your marketing department to send the right email to the right person at the right time. Also, it allows your emails to stay relevant and gives you a chance to understand the needs of your customers. So that, you can offer products that are actually needed and deliver superior service to retain your customers.
Create Valuable Content
Providing high-value content is always helpful to increase your credibility and win the trust of your customer. Although, nurturing a customer is a long-term process but one has to toil hard to understand the mindset of the customer. However, analyzing the needs of the customer is a complex task, but when you understand the needs of your customer, creating engaging content becomes easy.
Sending an email with the right content that aligns with your customer needs is the most important aspect in nurturing a relationship with them. Also, use eye-catching subject lines while sending emails that make recipients open your email and consequently increases your click-through rate.
Personalization
Sending personalized emails is the ever-green tactic to be used in e-mail marketing, whether it is to acquire new customers, or to retain the existing customer. The data shows that personalizing your emails can boost sales.
In fact, 33% of marketers believed that personalization will be the most important marketing capability in the future. While you can't afford to make each and every email unique, you can send automated personal messages based on their gender, products purchased, engagement level, and location.
Send Special Offers To Your Customers
The more you know about your customers, the better you can tailor your email marketing approach to each individual. Hence, review your customer's purchase history and determine what kind of offer will be the most appealing to each individual that will keep your brand in your customers' minds.
All you need to do is identify ways to revive their interest and convert it into an actual purchase! Using your CRM software, build a list of all customers who haven't bought anything for a longer run, and compare it with a list of all contacts who subscribed to your newsletter. The result is a list of contacts that are actively interested in your product and others who didn't make a single move.
Finally, send them a special offer deal or a discount on new products that align with active customers' interests and make them feel that you care and haven't forgotten about them.
Send Email Newsletters
Sending email newsletters is one of the proven customer retention strategies that work for sure. The right email newsletter can help you train your customers – especially when you're totally focused on educating them with branded content. According to Nielsen Norman Group, "Newsletters are great for maintaining good relationships, even when people aren't actively making purchasing decisions."
Sending educational emails has become a smart method of educating your customers – and giving them choices to consider buying from you other than your competitors. In some instances, if they can get valuable content from you at the earlier stages, they will remain your customers. Hence, show them a step-by-step process on how to use your product, the benefits, and behind-the-scenes video or pictures. And nurture your existing customers with loyalty programs.
Send Regular Re-Engagement Emails
Re-engagement emails are designed to bring back your previous customers who are not interacting with your business currently. For this, you can use your customer relationship management (CRM) tool to track customer engagement.
You can also send out re-engagement emails to someone who unsubscribed your service, in an effort to get them to change their mind. Most of the re-engagement emails include some kind of special offers or discounts. Note that, the discount doesn't have to be permanent, just give them something to get them active again, like 15% off of on a service or two months free subscription.
Bottom Line
If there is anything that is more important than customer retention, it is maintaining your customers' email database up-to-date and duly segmented by measuring the performance of each of your email marketing campaigns.
In addition, on your website, you can also conduct periodic audits to verify whether the plug-ins and add-ons of your website, such as shipping suite, SEO extension, and search extension, operate according to your expectations.
The key is to provide your users with a clean, stable, and, most importantly, superior website experience. If your clients feel confident and pleased to trade with you, and you have a great product to sell, then they are already persuaded and will be interested in buying from you over and over again.